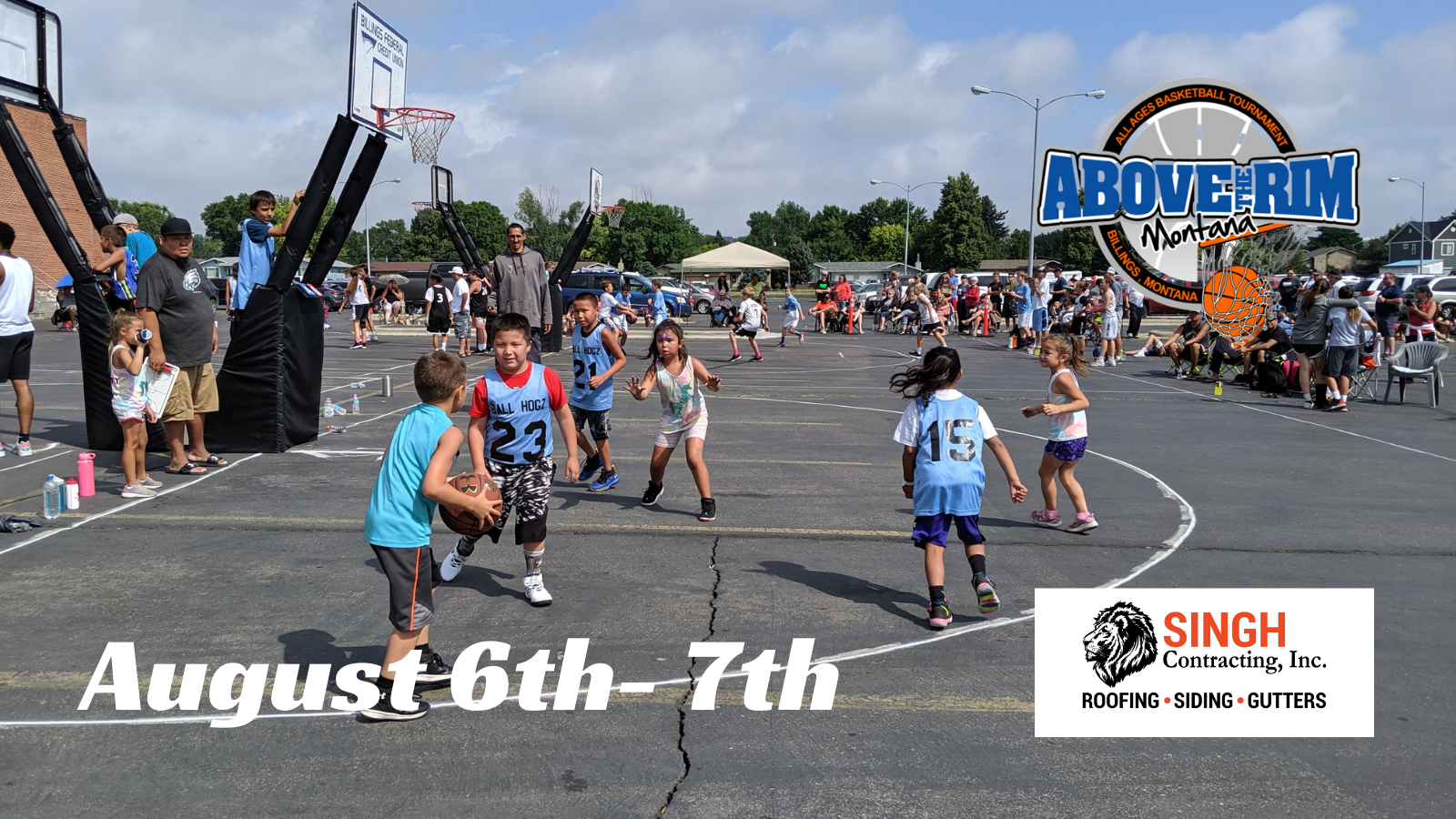 Above The Rim
Big Sky Ballin' with Singh Contracting is celebrating a decade of Above The Rim 3-on-3 basketball! The first event was held in 2012 in the parking of what was then called West Park Plaza on Grand Ave. Each year since has been held in the parking lot of the Shrine Auditorium on Broadwater Ave.
For the first time, in celebration of our 10th anniversary, Above The Rim will take to the streets of Downtown Billings. Have you been Downtown in August? We are excited to join other signature events such as Yellowstone Valley Farmers' Market and Magic City Blues. Above The Rim will setup headquarters at the corner of North 30th Street and 2nd Ave North.
As always, this is a two-day competition the brings in the region's finest streetballers. All experience levels are welcome to participate. The 2022 tournament will be held in the streets of Downtown Billings and the cost is $149 per team. Register by July 30, 2022 to avoid a late charge, July 22 to guarantee shirts for the whole team!
Above The Rim is a two-day 3-on-3 basketball tournament, with teams of up to 5 people. Saturday, August 6 consists of round robin play to seed divisions. Each team is guaranteed two games on Saturday. During the lunch break, players and fans have the opportunity to compete in our three point and slam dunk contests!
On Championship Sunday, the single elimination knock-out stages begin. Winners stay and continue to play, losers pack it out. The competition is fierce and teams from all over the region will be competing for their division title!
Teams may register in the following divisions:
1st grade boys thru 12th grade boys, by grade
1st grade girls thru 12th grade girls, by grade
Adult Coed (2 men/2 women required)
Adult Women
Adult Men
Adult Men Masters (35+)
Grade levels should correspond to the oldest member of the team's grade for Fall 2022. Please note that any division is subject to being cancelled or combined with another division, based on the discretion of the tournament organizers. We cannot control how many teams in each division sign up but will do our best to accommodate as many as possible.
The cost to participate is $149 per team. All registrations must be received by August 1, 2022, or as may be otherwise advertised by the promoters. Late fees may apply after July 30. Shirts may not be guaranteed after July 22.
In the event of adverse weather, Big Sky Ballin' may elect to delay or cancel games for the safety of players and fans. There is no actual or implied guarantee that all scheduled games will be played if reasons beyond our control do not permit safe play. If games are delayed or cancelled, players will not be permitted to play on courts or hoops.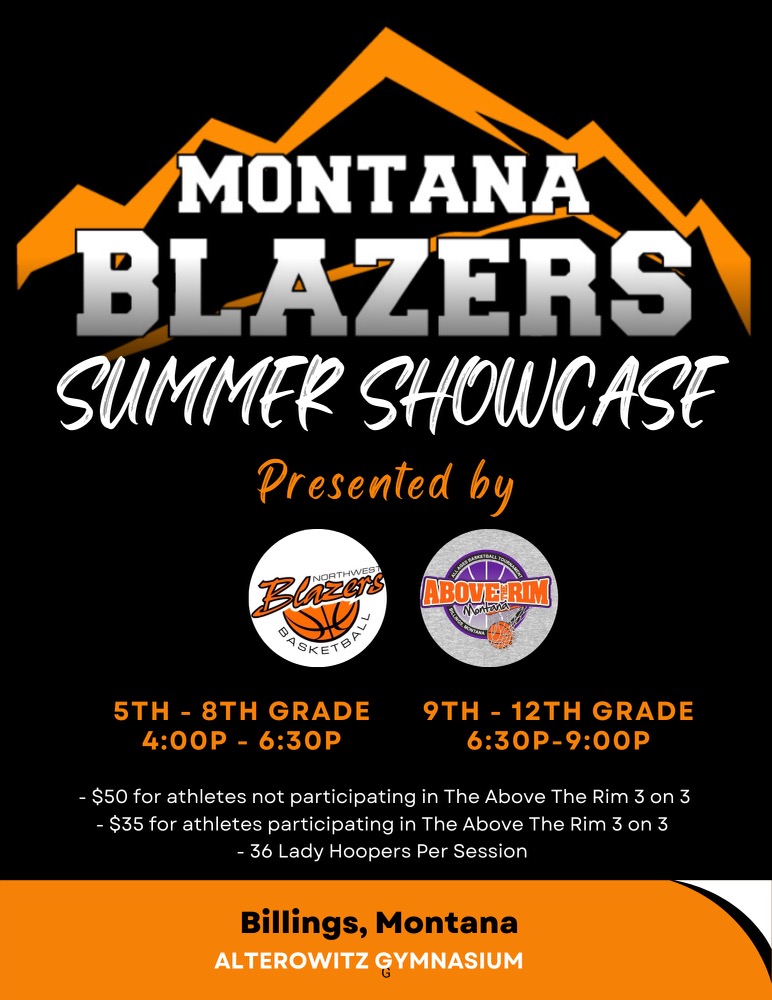 This camp is for participants entering 5th grade to 12th grade. The camp will begin Friday, August 5th, at 4:00 pm (for 5-8th) and 6:30pm (for 9th -12th).
5th - 8th Campers should report to the Alterowitz Gymnasium at MSU-B by 3:45 pm.
9th through 12th should arrive by 6:15 pm.
The camp will run from 4:00 pm to 6:30 pm for 5th through 8th Grade, and 6:30 pm to 9:00 pm for 9th Grade through 12th Grade – Friday, August 5th.
Registration costs:
$50 for athletes NOT participating in the Above The Rim 3 on 3 Tournament
$35 for athletes participating in the Above The Rim 3 on 3 Tournament
Goal: Create and build a foundation of skills such as rebounding, real game situations, shooting, ball skills, etc...
Staff: The coaching staff will consist of current and former college players and coaches.
Questions/Comments/Concerns: Call William at (775) 250-8252 or email him at [email protected], or visit us online at www.BigSkyBallin.com.
Misc. Information: Wear comfortable clothing, appropriate shoes, and athletic wear.
How to get the Above The Rim discount?
Fill out this registration form and use the discount code ATRPLAYER22 which denotes you are already registered for the Above The Rim Tournament and have PROOF OF PURCHASE. The price will automatically reflect the discount.
We are in need of referees for our tournament. Referees will be paid on a per game basis, and additionally provided refreshments and concessions that commensurate your time commitment.  Please fill out the form below to register your interest.
Sponsors are a critical component of community events, including Above The Rim. Read on to see how your brand can benefit from aligning with us to ensure to the success and longevity of community sports.
Types of Sponsors
We have never had more ways to partner with us:
Title Sponsor [sold out]
Swag Bag Sponsor
T-Shirt Sponsor
Hoop & Court Sponsors
Restaurant Sponsors
Ready to take the next step? Contact us.
Swag Bag Sponsor
Imagine your brand in the hands of approximately 500 participants. Above The Rim swag bags are a key part of the tournament experience, as they are the first thing handed out on the Friday before the tournament. The Swag Bag Sponsor receives exclusive rights to designing the bag each participant will receive. The bag can be as simple as a cinch sack or as complex as a book bag- you call the shots!
T-Shirt Sponsor
Make a splash by being the exclusive brand on the back side of all tournament t-shirts. Approximately 500 participants will receive your logo's shirt to take home. From personal experience, t-shirts are the longest lasting advertising medium available. Participants have Above The Rim shirts from the last decade! Become part of the legacy and enshrine your brand on the special 10th anniversary edition of our tournament shirt. There is no better way to put your stamp on the event.
Hoop & Court Sponsors
All eyes are on the game! Own a Hoop & Court and display your business logo for all to see!  Your business logo on the backboard of the hoop and a court dedicated to your business.
Restaurant Sponsors
Streetball brings people of all ages and appetites out into the fray. The athletes and fans alike work up a hunger at least three times a day. Become a restaurant sponsor of Above The Rim, the largest 3-on-3 tournament in the region and help us feed the masses. Out of towners and Billingsites alike will be searching for grub during the tournament. Each meal period will be sold separately. A restaurant may choose to sponsor one or more meal periods. The meal periods available are:
Breakfast
Lunch
Dinner
Happy hour
Dessert & Treats
Don't delay- we will only accept up to 3 restaurants per meal period to avoid dilution.
Refunds may be available by request with reasonable accommodations.  Please reach out to [email protected] or call (775) 250-8252.  Absolutely no refunds will be granted after August 1, 2022.
View the tournament rules and regulations here.
Billings Hotel and Convention Center
Booking Rate: $119 for single and double occupancy.
Booking Name/ID: Above The Rim
Any Concessions: Free Breakfast. Can book August 5th-August 7th.
Website: https://www.billingshotelmt.com
Phone/To Book Call: (406)248-7151